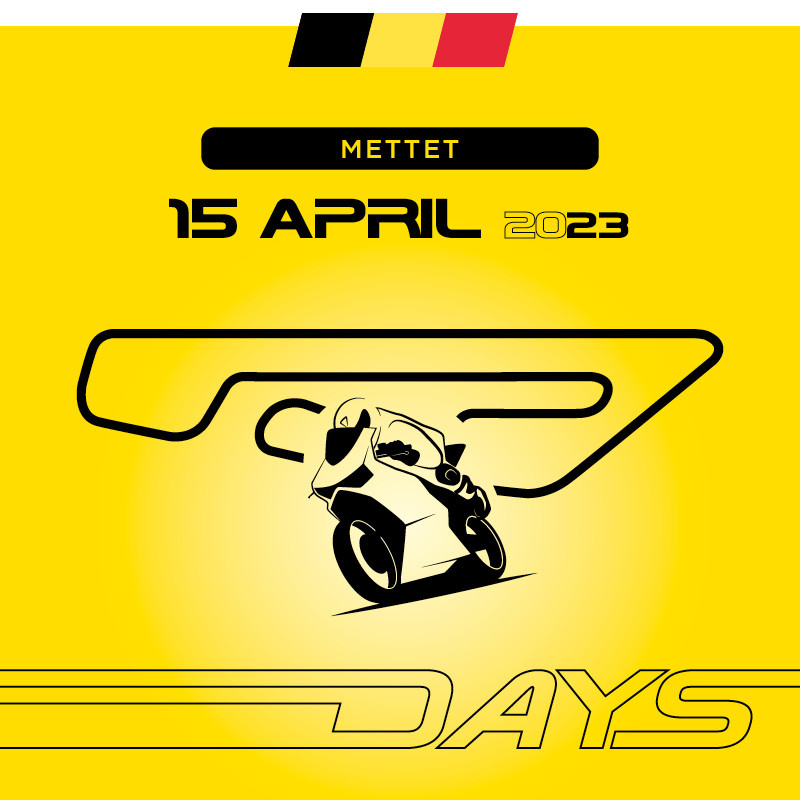  
Bikers'Days Mettet (15/04/23)
Come and start the season at the Belgian track !
Programme:
- 4 groups : fun - fast - very fast - expert
- homogeneous groups thanks to the use of transponders
- noise restriction : static measurement 94 dB - dynamic measurement 101 dB
- original exhaust pipes or dB killer mandatory !
Garanties sécurité (à modifier dans le module "Réassurance")

Politique de livraison (à modifier dans le module "Réassurance")

Politique retours (à modifier dans le module "Réassurance")
NEW! Insurance: for each of our Bikers'Days, we now offer a fall- and cancellation that you can take out when you place your order. more information at https://bikersdays.com/assurance/
Timing: 9h - 18h, one hour break at noon
Electricity : power plugs "16 amps. bipolar". There are power boxes in the paddock, bring along an extension cord and an adapter.
Gasoline : gas station at 500 m from the paddock (TOTAL station, Rue Saint-Donat, 1 in 5640 METTET).
Pitbox : possibility of renting a complete pitbox, 180€/day. Reservation only via info@bikersdays.com.
Restaurant: the restaurant at the second floor of the Tower proposes a "plat du jour" and sandwiches, to be ordered before 11h30.
Hotel: The Bikers'Days team will stay at La Cité Impériale Hotel. TBC. 
Sanitary arrangements : Showers and toilets in the paddock.
Tyre service: Dunlop tyres are sold, all brands are mounted (15€/wheel)
Paddock access : The information concerning the access hours will be transmitted approximately two weeks before the event via SPORTITY 
Address of the circuit : Rue Saint-Donat 6, 5640 Mettet.
Data sheet
Official Name

Circuit Jules Tacheny

Circuit Length

2.280 km

Track Record

1'03"557, Grégory Fastré, 2012

Turns

10 Turns: 7 left - 3 right

Creation

Begin 1920

Official Website

https://www.circuit-mettet.be