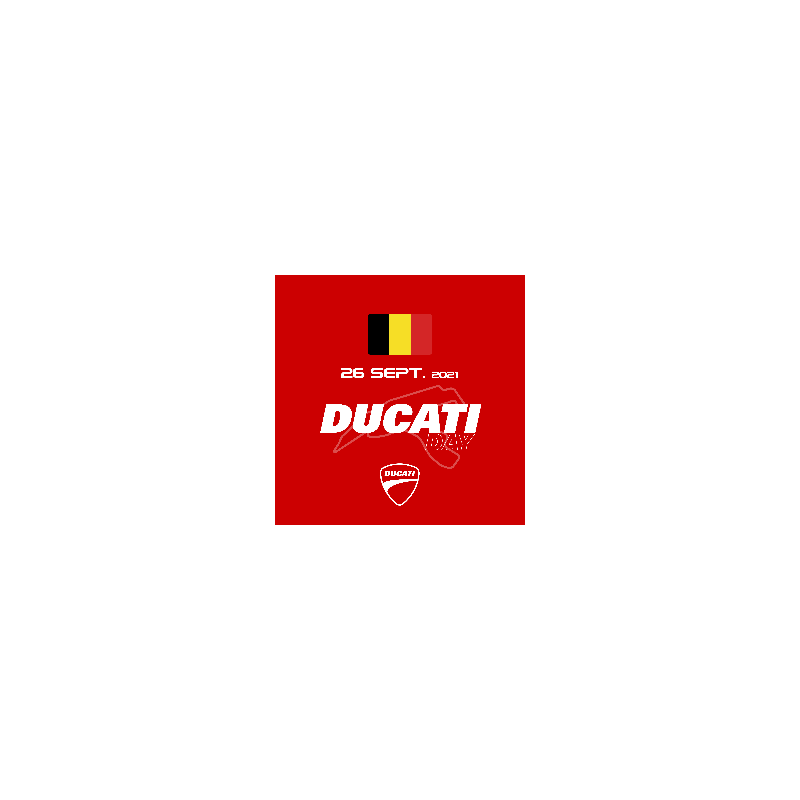  
Ducati Day Spa-Francorchamps (26/09/21)
Come and have fun at the rollercoaster of the Ardennes !
Programme:
2 groups : discovery - experienced
homogeneous groups thanks to the use of transponders
noise restriction : static measurement 100 dB - dynamic measurement 100 dB
Included : 1 entry tickets for extra person, extra tickets are available via presale on Ticketmaster. 
IMPORTANT : this day is exclusively reserved for DUCATI. A participant showing up with a motorcycle of another make will be refused entrance to the track !
Garanties sécurité (à modifier dans le module "Réassurance")

Politique de livraison (à modifier dans le module "Réassurance")

Politique retours (à modifier dans le module "Réassurance")
Timing: 9h - 18h, one hour break at noon
Electricity : power plugs "16 amps. bipolar". There are power boxes in the paddock, bring along an extension cord and an adapter.
Gasoline : the gas station in the paddock is opened during the riding sessions.
Pitbox : possibility of renting a complete pitbox 
Restaurant: The paddock restaurant proposes a buffet lunch (16€). It is situated on top of the Pit Building.
Coffee welcome : A fine Segafredo coffee awaits you at the Welcome and during the event
Sanitary arrangements : Showers and toilets in the paddock.
Tyre service: Dunlop are sold, all brands are mounted (10€/wheel)
Paddock access : The information concerning the access hours will be transmitted together with the confirmation of registration, approximately two week prior to the event.
Address of the circuit : Route du Circuit 55, 4970 Stavelot.
Hotel : A preferential rate is offered to the participants of the Bikers'Days at Hôtel de la Source. Bookings by mail : reservations@hotel-de-la-source.commentioning the promotional code "Bikers'Days".
Nearest airports: Liège – 56 km / Brussels – 134 km / Charleroi – 132 km / Maastricht – 71 km.
Data sheet
Official Name

Circuit de Spa - Francorchamps

Circuit Length

7.004 km

Track Record

2'25"100, Grégroy Fastré, 2012

Turns

9 turns: 10 left - 9 right

Creation

1920

Official Website

http://www.spa-francorchamps.be