Motorcycle Transport
For our events outside of Belgium we have a transport service available for you. Your bike can be transported from our premises to the racetrack. At the end of the event, the bikes are shipped back to Theux where they have started their journey, and can be picked up there.

Bike transport includes 1 metal trunk (80 x 40 x 40 cm) , 1 sport bag, 2 tires OR extra set of wheels, jerry can (empty), rear bike stand.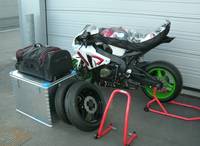 Motorcycle Transport
Sorry for the inconvenience.
Search again what you are looking for